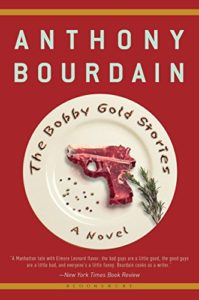 Matthew and I have many, many million dollar ideas and we are sharing them with you today. Go, make them happen. Don't forget us when you make your first $5.
We break down The Bobby Gold (Stein) Stories where ample drug, cop, prison and kitchen references mark it firmly in classic Bourdain territory. Matthew talks about his time in the hoosegow —big house or slammer, if you prefer — because he's a bad, bad, man.
Next book: The Thief's Daughter (The Kingfountain Series Book 2), by Jeff Wheeler
P.S. We were so wrong about what the drug 'hydro' is. it's hydrocodone, not hydroponic weed or heirloom tomatoes.
Podcast: Play in new window | Download